3:46 PM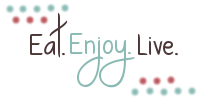 How's your weekend going? I am extremely grateful and happy to guest post at
Eat.Enjoy.Live.
for a virtual coffee in the desert. Hop on over and say hello to
Helen
and you might make a new friend.
There's a lot of preparations for Halloween and I now have an idea
what I'm going to wear for a costume party.
Eid Mubarak to all readers based in the Gulf. Hope you all had a wonderful long break.
Wishing you all a great Sunday!
XOXO,
Arni